Never Give Up Celebration for the Community.
Modern Song Focus on Contemporary Church Artists performing hymns of traditional foundation.
Everyone is Welcome!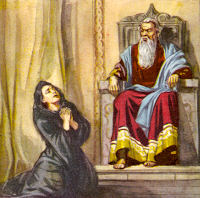 Introduction: The Persistent Widow.
Jesus states his point about the judge's lack of regard for people plainly and clearly. This man shockingly fails to hear the woman for the right reasons, but instead succumbs to the selfish concern that he not get bad visibility among those who judge him. Jesus wants us to pray and plead unceasingly like the persistent widow. Of course God hears us. The persistence will motivate our peer who is in a position to give us what we long for, a just result.
In our lesson in Genesis, Jacob is vulnerable but chooses to go alone. Our lesson demonstrates that no matter how formidable the challenge, there is light at the end of the tunnel and God will see us through.
Our Psalm 121 is a song of assent. At this time the requirement for the Jewish male is to make a pilgrimage to see the face of the Lord. Pilgrimage should be and is a holy inspired life change experiential journey.
In todays reading from Paul's Epistle to Timothy, we are told to continue to follow in all we have learned from the biblical truths in Christs life. It is our calling in life to proclaim to others what we know from what we learn; Jesus Christ is there for us, all we need to do is believe, reach out and ask for His blessing. Pray to God the Father, Son and Holy Spirit. There we find meaning and calling in life as Gods children and a member of the Christian community. We are called by Living Christs example to preach and teach by our example.
Opening Hymn:
Morning has Broken
Cat Stevens
Morning has Broken https://youtu.be/e0TInLOJuUM
Scripture:
Old Testament: Genesis 32:22-31.
Psalm: Psalm 121.
New Testament: 2 Timothy 3:14-4:5.
Gospel: Luke 18:1-8.
Prayer:
God of power and justice, like Jeremiah you weep over those who wander from you, turn aside to other gods, and enter into chaos and destruction.
By your tears and through your mercy, teach us your ways and write them on our hearts so that we may follow faithfully the path you show us. Amen.
I Will Lift My Eyes
Bebo Norman
I Will Lift My Eyes https://youtu.be/Te0hy2YcLgg
Prayer Intentions:
Friends in Christ, God invites us to hold the needs of our sisters and brothers as dear to us as our own needs.
Loving our neighbors as ourselves, we offer our thanksgivings and our petitions on behalf of the church and the world.
Prayers of the People;
Hear our prayers, God of power, and through the ministry of your Son free us from the grip of the tomb, that we may desire you as the fullness of life and proclaim your saving deeds to all the world. Amen.
Apostles Creed
I believe in God the Father Almighty, Maker of heaven and earth. And in Jesus Christ, His only Son, our Lord; who was conceived by the Holy Spirit, born of the Virgin Mary; suffered under Pontius Pilate, was crucified, died, and buried; He descended into hell; the third day He rose again from the dead; He ascended into heaven, and sits on the right hand of God the Father Almighty; from there He shall come to judge the living and the dead. I believe in the Holy Spirit; the holy catholic Church, the communion of saints; the forgiveness of sins; the resurrection of the body; and the life everlasting. Amen. (Book of Concord).
Our Father
Our Father who art in heaven, hallowed be Thy name, Thy kingdom come, Thy will be done on earth as it is in heaven. Give us this day our daily bread; and forgive us our trespasses as we forgive those who trespass against us; and lead us not into temptation, but deliver us from evil. For Thine is the kingdom and the power and the glory forever and ever. Amen. (Book of Concord). (Matthew 6:9-13).
Spirit Pour Out
Andy & Rachel Graham
Spirit Pour Out https://youtu.be/ERVSrqcUOCo
Liturgy of the Eucharist
Handshake of Peace
Confession
The Apostle John proclaims, If we confess our sins He who is faithful and just will forgive our sins, and cleanse us from all unrighteousness. 1 John 1:9.
Most merciful God, we confess that we are by nature sinful and unclean. We have sinned against You in thought, word and deed, by what we have done and by what we have left undone. We have not loved You with our whole heart. We have not loved our neighbors as ourselves. For the sake of Your Son, Jesus Christ, have mercy on us. Forgive us, renew us, and lead us so that we may delight in Your will and walk in Your ways to the glory of Your holy name. Amen.
Communion Hymn
Come Holy Spirit
Vertical Worship
Come Holy Spirit https://youtu.be/-h4LTXywFiM
Communion
Prayer:
Holy One, we lift our eyes to you in hope and awe.
Grant that we may reject all apathy of spirit, all impatience and anxiety, so that, with the persistence of the widow, we may lift our voice again and again to seek your justice. Amen.
Closing Hymn.
Never Give Up
Lion
Sia
Never Give Up https://youtu.be/h6Ol3eprKiw
Blessing:
The Lord bless you and keep you; The Lord make his face to shine upon you and be gracious to you; The Lord lift up his countenance upon you and give you peace. Numbers 6:24-26.
The Service has ended. Go in Peace.
Thanks be to God.
Peace and Joy!  Pastors Michael and Cathy Hanus. Spirit of Peace.